We support industry and government generally with industry-education interface management, helping industry to access the best solutions from the education community - especially those requiring the contribution of multiple universities and other providers for optimum success.
AITEC has also become one of Australia's reliable developer and provider of education program management services, assisting both national and international clients with study tours, tailored training programs, logistics and social support programs.
Our background and expertise also enables us to provide education and training services for technology-based industries such as information technology, communications, defence and the spatial industries. We excel in designing, developing and delivering custom and tailor-made programs to serve corporate requirements and managing the process on behalf of our corporate clients.
AITEC also specialises in sophisticated e-learning design and development for both courseware and e-learning templates for corporate client e-learning platforms.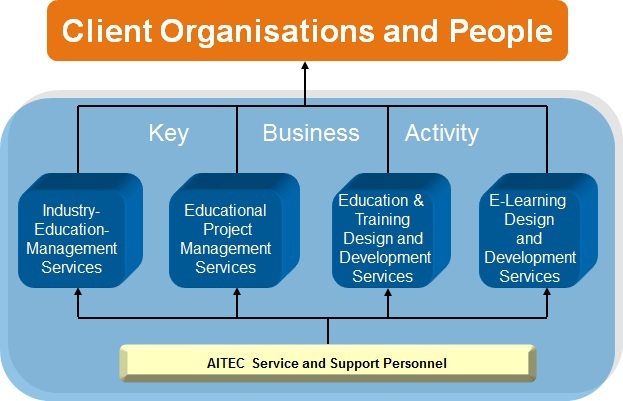 We can assist your organisation to view collaborative outsourcing solutions as a strategic tool for gaining economies of scale, enhancing flexibility and improving competitive advantage. Depending on the nature of the situation, our standard service solutions may entail any or all of the following activities.
Workforce Profiling
National and local workforce roles and skills requirements mapping
Education and Training program analysis against requirements
Workforce future need and location projections
Internship and Graduate Year Program Management
National internship and graduate year program management
ICT systems for internship management
Legal and contractual instruments for internship management
Applications, selection and matching of interns with host industry
Salary, incentives and other financial management
Comprehensive reporting for clients and hosts
Education Program Management
Design of advanced education programs
Identification of required university and other education providers
Legal and contractual instruments for management
Procurement management
ICT systems for management
Full financial administration
National central registry and record-keeping
Delivery management and evaluation
Partnership Facilitation/Brokering
Identification of potential partners
Facilitation of partnering for common outcome
Negotiation and brokering of collaboration
Development of partnering agreements
Provision of secretariat support
Project support activity to achieve desired outcomes